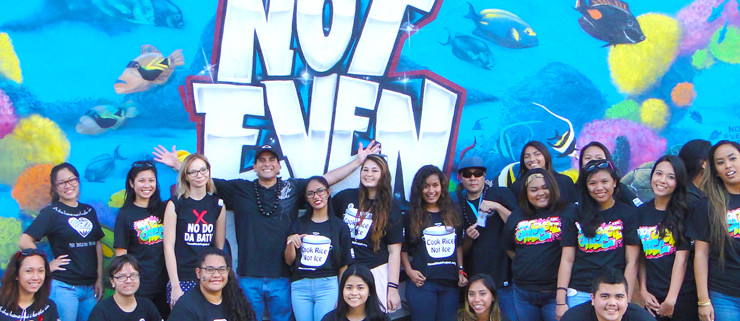 2015 Spring Mural Locations:
James Campbell High School,  Ewa Beach, Oahu
Henry Perrine Baldwin High School,  Wailuku, Maui
Kohala High School, Kohala, Hawaii
Waimea High School,  Waimea, Kauai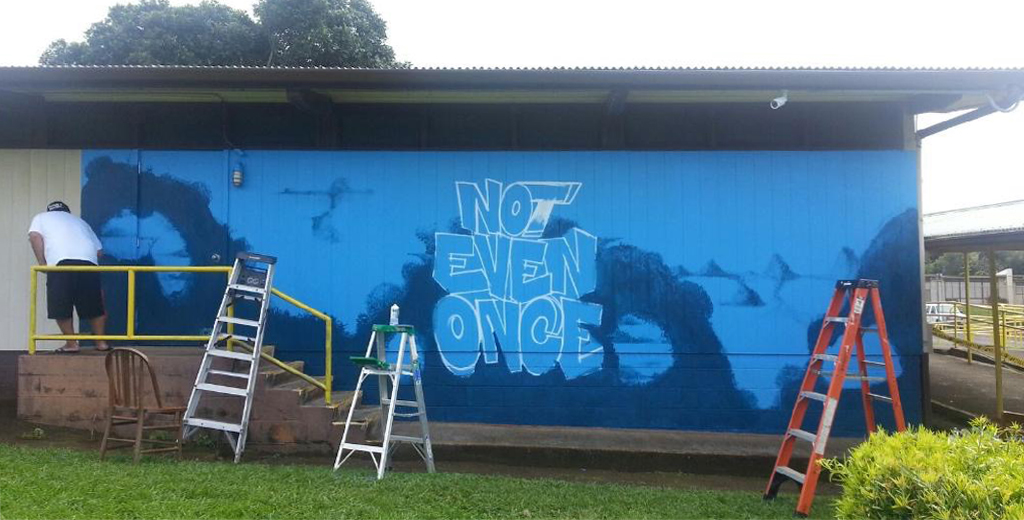 "Not Even Once" is the primary message delivered through the multimedia murals we create at schools and youth centers statewide. Our large- to medium-scale murals, centrally located at each site, reinforce the community outreach work of the Hawaii Meth Project whose aim is to put an end to Meth use on our isles. Through these murals, the Hawaii Meth Project's message is reinforced every day to thousands of youth in Hawaii. To the eleven murals in eleven schools or youth centers now, we expect to paint five more anti-meth murals by the end of this year. Given that every school we have visited experiences the pain of drug addiction – we feel compelled to act.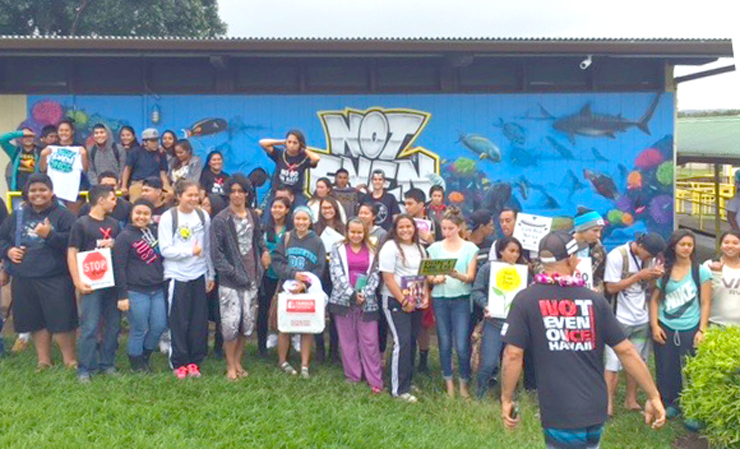 Kohala High School Principal Janette Snelling understands the power of the mural's message and function, "The mural will serve as a constant reminder of avoiding drug use and promoting a healthy lifestyle as an alternative… This partnership has generated student and staff attention and will have lasting benefits for years to come."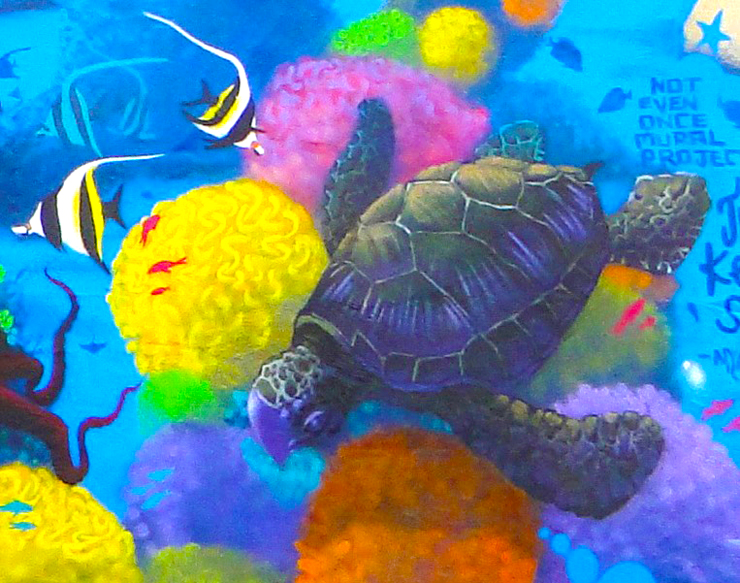 Keep it Flowing adds to this primary message by also addressing the current state of our reefs through our imagery. Through our murals, we hope to raise consciousness about the current state of our ocean. We wonder what the ocean must have looked like when it was healthier and how we would like it to be in the future knowing that our reef does not look anything like those we depict in the murals we paint now. As an arts organization deeply involved with the health of Hawaii and its people, we address the environmental issue of our ailing ocean as part of our messaging. We found that everyone at each site felt a strong connection with the ocean and our murals draw upon that.
Considering our methodology, the fact that our main instrument is an aerosol can, our project shows how to use aerosol in a legal way that beautifies rather than destroys. We show young people how to paint with aerosol in a legal and safe manner and we encourage them to do the same. Through the act of live painting, we also show everyone how we create, how each one of us has our strengths and weaknesses, how we compliment one another, and how we help one another.

Something that distinguishes this tour from the three previous ones is that this time we made two of the four murals collaborative. We worked closely with Baldwin and Waimea High School well ahead of time to coordinate this collaboration. Principal Mahina Anguay from Waimea High School believes it was worth the effort. She writes: "At the unveiling ceremony, the artists allowed our students to personalize the mural by painting positive messages on either end; many of our students have said that while the visual effect of the mural is powerful, reading the individual quotes and notes from students and staff are what's making a lasting impact." Our goal is to inspire and we believe our work is having a positive impact.
One way to assess this impact is to consider how many schools have requested that we conduct pre-, during, and post-mural workshops to complement our mural art. Such an extended workshop series would give the project an even greater impact and what could emerge from such a rare opportunity for most Hawaii youth would be powerful.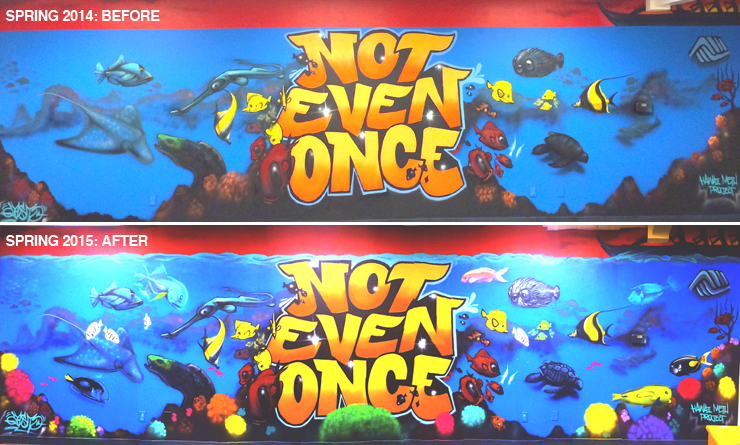 Ideally, we would like to revisit every site that has been a recipient of a Not Even Once mural. We would touch up the murals while also build on the relationships we have already begun thanks to this project. On this tour, we were lucky revisit the recipient of the very first Not Even Once mural at the Boys and Girls Club in Lahaina, Maui. We celebrated the project's one-year anniversary by painting more fish on the February 2014 mural and we led a free art workshop for the youth while we were there. Trysen Kaneshige conducted the workshop while Ken Nishimura supervised. Extended and multiple visits to the mural sites allows us to strengthen our relationships with supporter and the youth. Community is an elemental component of this project and we are very thankful that our supporters agree.
 The Team
The project's lead artist, Ken Nishimura, has the life purpose of serving the youth and inspiring them through the arts. Seven years ago, Nishimura's career took a turn towards youth when he developed a toy for Kidrobot. The world's response to his E3 Mugsy toy was overwhelming. That same summer Nishimura was invited to speak at Cornell University in New York City for their first annual "Hip Hop Historical Society" event. He spoke to over 300 youth and gave an exhibition on the history and practice of aerosol art. From that moment on, Nishimura has focused his energy on projects that support young people. In just seven years, he has worked with YMCA (Kalihi), University of Hawaii (Manoa), Diverse Arts (Kakakako), Kauai High School (Kapaa), Hawaii Meth Project (statewide), Mililani Town Association (Oahu), Kauai Police Department, Boys and Girls Club (Maui), Molokai High School and most recently Big Brothers and Big Sisters (Maui).

Nishimura's dedication to the youth also shows in his mentorship of 20-year old, Trysen Kaneshige, from Kauai. Nishimura first met Kaneshige in 2010 at a public summer art workshop in Kauai. Nishimura has been mentoring him ever since. Kaneshige is now a critical member of the Not Even Once mural team. Not only does he paint the wall independently, he seeks partners, spreads awareness, leads workshops, addresses large audiences and, this season, for Waimea High School's mural, he was the Art Director. This semester Kaneshige enrolled in all on-line classes from the Institute of Fine Arts in San Diego where he is a sophomore. In other words, he was taking a full load of college classes while executing an intensive four-week mural tour throughout the Hawaii Islands.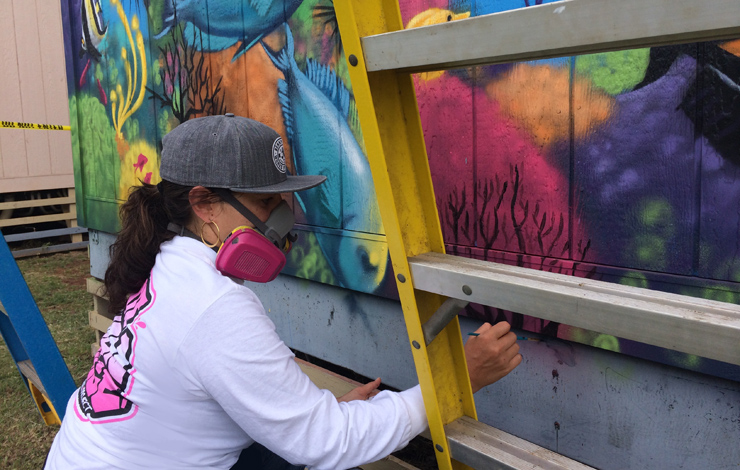 The third muralist, Aranzazu Ascunce, may be a newcomer to aerosol but she is veteran at organizing cultural and educational events for young people. Since she moved to Hawaii in 2007 to work as an Assistant Professor at the University of Hawaii at Manoa she has organized panels of artists, workshops, film screenings, live performances, fundraisers and more. Over the years she has also led hundreds of students abroad to Spain. One year ago, she was invited to live her dream of painting murals through this project. Now, she has painted eleven murals with the Not Even Once mural project and gained valuable business knowhow in project planning, branding and communications. She is the author of the Keep It Flowing blog where she has documented the project since its inception. This mural project allows her to exercise her passion for writing in an environment where she excels.
Georgi DeCosta, Executive Director of the Hawaii Meth Project went to heroic efforts to ensure that this mural tour happened and that it be fully funded. Mobile Native Hawaiian Health, namely Leihinahina Sullivan and Wilma Holi, were just as enthusiastic supporters! We consider all three of these champions of the cause to be part of our team and we feel humbled to work with them.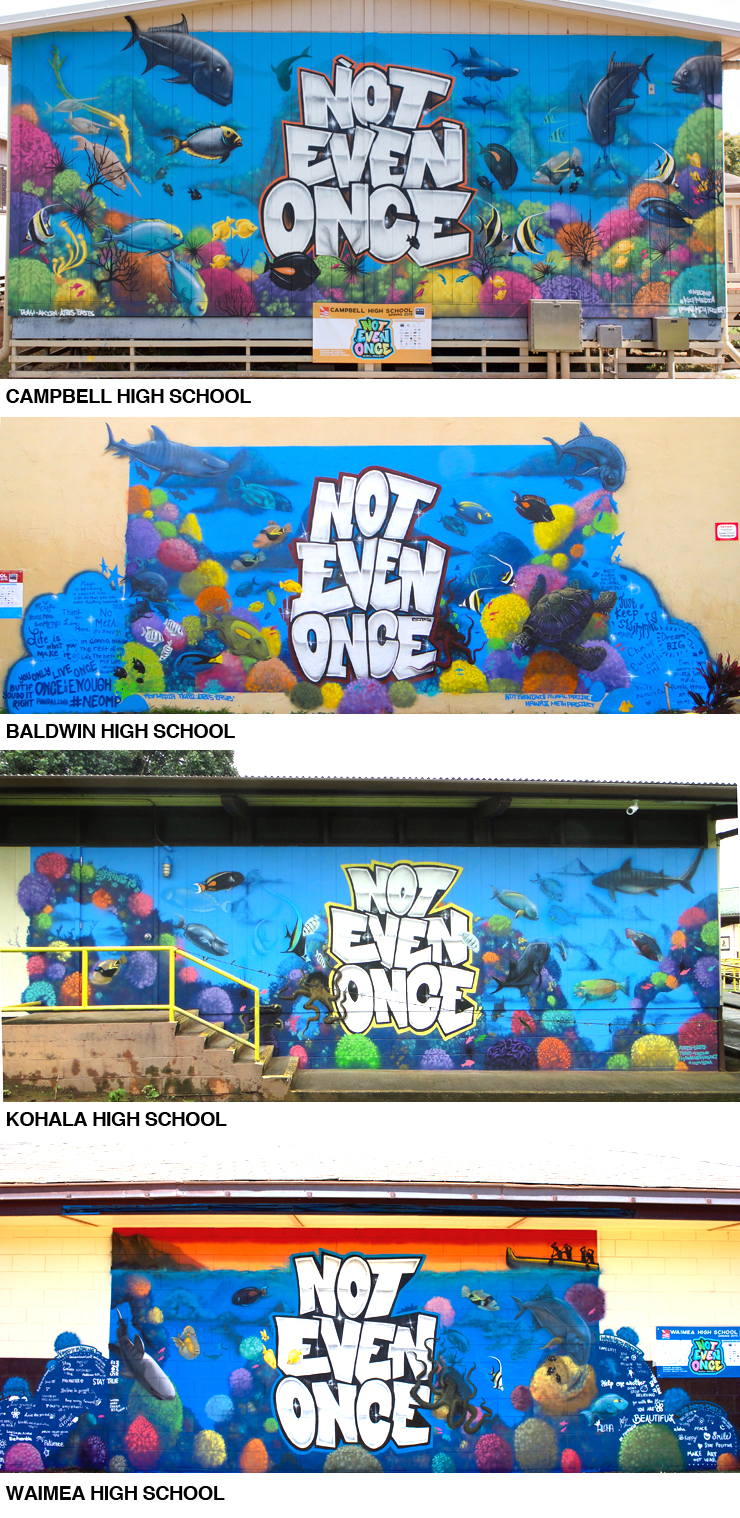 Impact
Through our 5-day visit at each school this season, Keep It Flowing live-painted for over 6,100 students plus another approximately 1,000 faculty and staff. These murals and their powerful message will be exposed to all these and more as long as the murals stand.
This mural project has proven to be an effective way to educate audiences, frame and build dialogue, encourage buy-in for change, and increase long-term stewardship and utilization of public spaces. We are also happy to report that in one year, none of the eleven murals have been vandalized.
The Peer Education Coordinator at Baldwin High School remarked in a letter of support for the project: "We commend the work by the trio of artists… whose passion and diligence, in plain view of the students and staff, was admired until its completion. What we witnessed as they created the mural
was the synergism displayed as they worked as a team. We appreciated how the artists took into consideration what our students wanted and that was to make the mural unique. Students were allowed to contribute to the mural by adding personal quotes. This gave these participants a sense of pride and ownership in campus beautification. We realize the importance of having such opportunities available to our youth."
Media Coverage
Read more about our latest Not Even Once murals by clicking these links:
Front Cover Photo in the Maui News
Slideshow of Mural-Making, Rally and Unveiling in West Hawaii Today
Feature Story in the Garden Isle with Pictures
Watch a television news report about the mural and its impact: