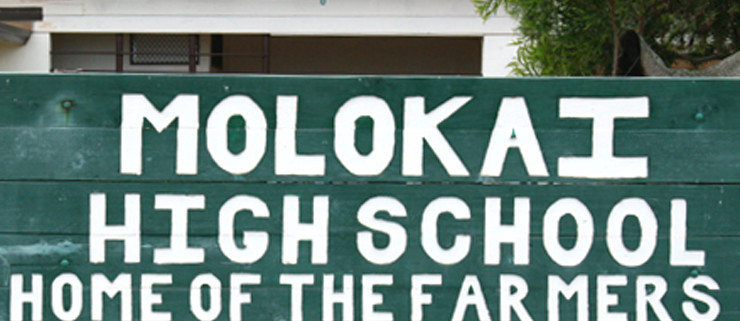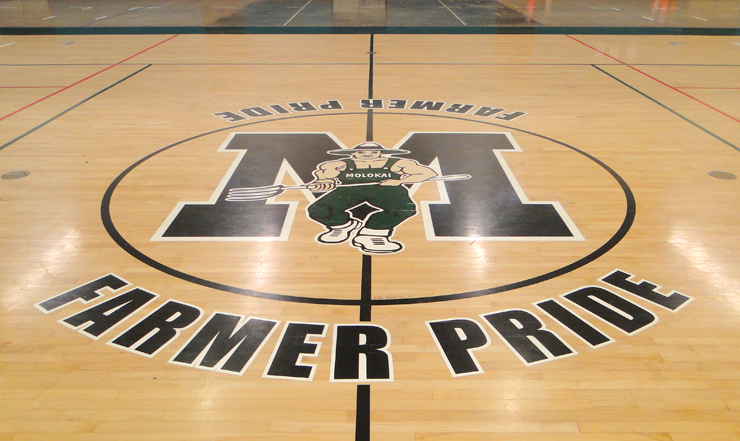 The Molokai High School Beautification and Cultural Awareness Project is perfectly aligned with Molokai High School's vision to honor the past, embrace future renovation and take responsibility for delivering excellence. This mural project honors the past in two ways. On the one hand, this beautification and awareness project is intimately connected with the murals that once graced all of the walls of Molokai High School (MHS). Due to dilapidation these murals disappeared after a building renovation project.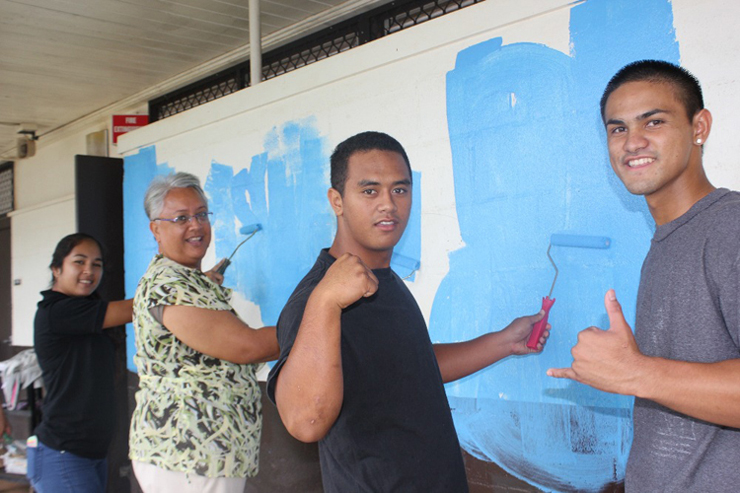 As Principal Stan Hao stated, "Molokai High School ended up with two-toned colored buildings like most public schools in Hawaii and nothing to give life to it". This mural project is bringing back to life the main idea and spirit of those historical murals that were once a source of great pride to the MHS community.
On another level, this mural project honors the past because like the previous murals that depicted ancient Hawaiian practices, the new murals will do the same. For instance, in this first phase of the project that was just completed, all of the fish and plants species depicted on the murals can be found in Hawaii.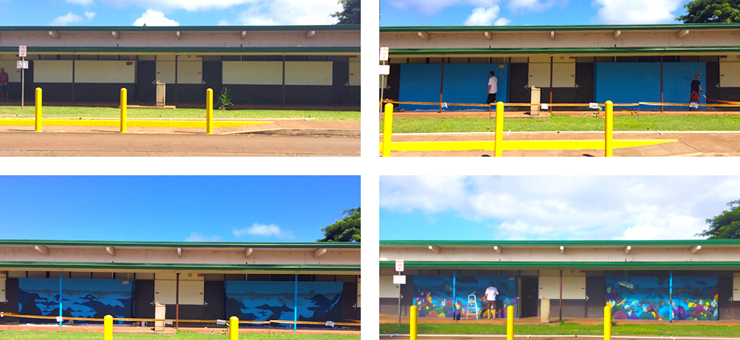 The mural project embraces future renovation because the murals will show scenes of students' future endeavors. These murals will show the gradual progression of student dreams becoming a reality. The murals will depict images of what their futures could be through images seen on these murals. For example, students could be involved in the preservation of wildlife or ancient
Hawaiian practices in their lifestyle and future careers.
This mural project meets the third element of the school's vision of taking personal responsibility for delivering excellence because like Louise Manley, parent representative on the School Community Council, stated, "This mural screams excellence." Nishimura strives to work in a safe and effective manner while demanding excellence of himself and his team.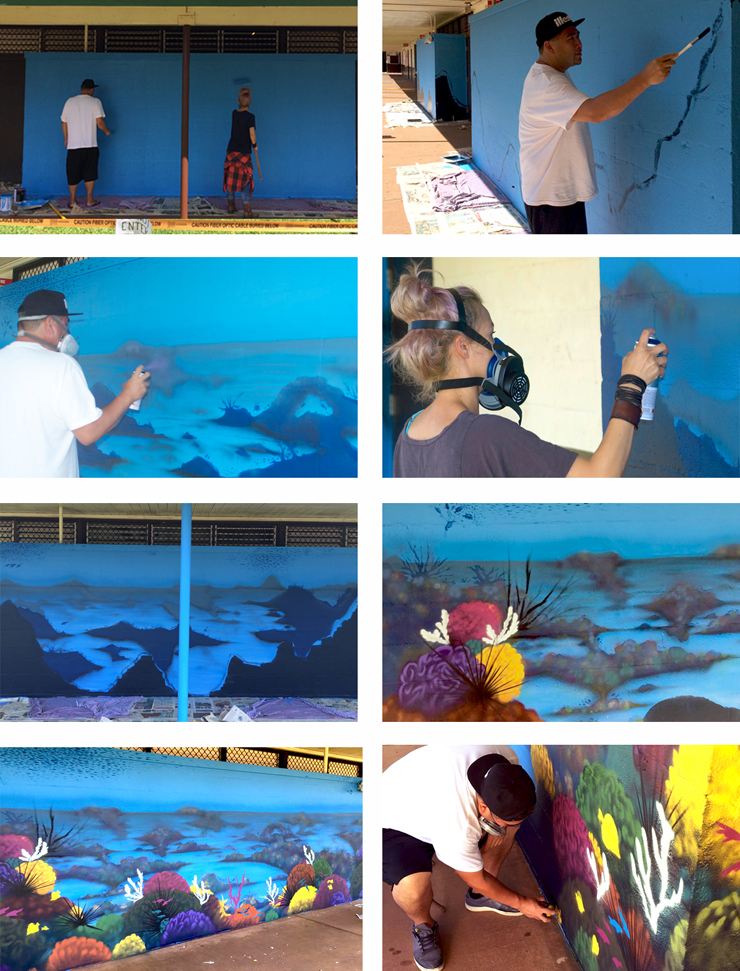 Ken Nishimura is the lead artist on this project and in October 2014 he completed Phase One: Ocean Life. Nishimura was on campus from sunrise to sunset for three weeks. During this time, he accomplished his goal of completing the first phase of the school beautification and cultural awareness project on time. This first stage of the mural project included the following undertakings:
•    PREPARING THE WAY: Nishimura collaborated with art teacher Robert Bento to prepare his students for the mural project by instructing them to draw fish and marine plant life. When Nishimura arrived to campus, students presented their artwork to him. These drawings prepared them to draw and paint on the walls after further instruction by Nishimura.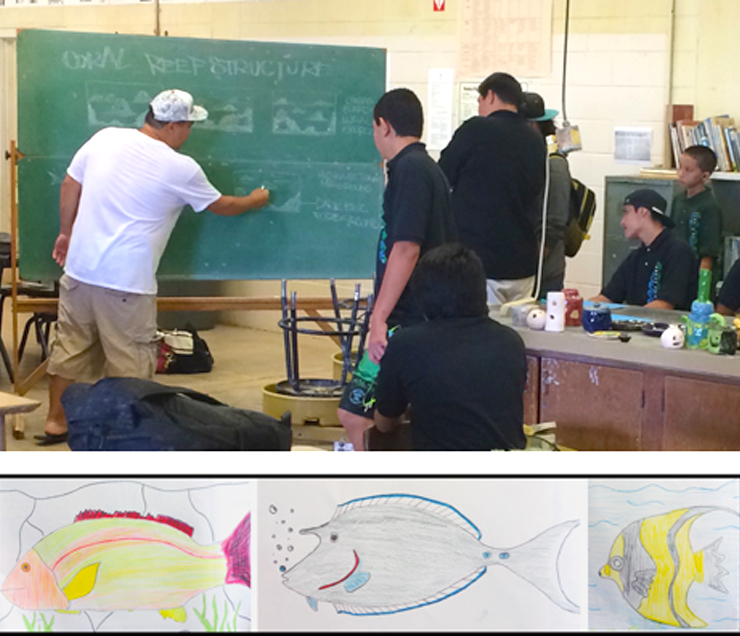 •    COMPLETING TWO INDEPENDENT MURALS: Nishimura completed the majority of two ocean murals depicting ocean life using a combination of aerosol cans and paintbrushes. Artist Nicole Kealoha assisted Nishimura in the preparation of the background as well as in outlining the reef. These two murals are located on the building next to the school's main entrance (Building A) facing the main road in front of the high school. The intent of doing these murals first was to create awareness and inspiration for the five collaborative murals that were created with the students and their teachers.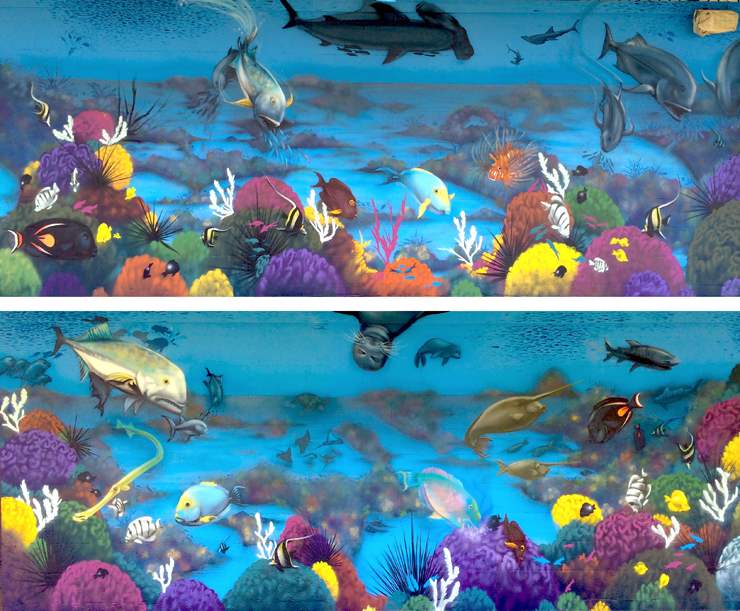 •   COMPLETING FIVE COLLABORATIVE MURALS: Many people were involved in completing five ocean murals using aerosol cans and paintbrushes. These murals are located at the entrance of the gym. Those who participated in painting these murals included: Thirty-two MHS students; two MHS art teachers, Robert Bento and Perry Buchalter; one assistant from Molokai, Froy Velasquez; and three artists from Oahu: Nicole Kealoha, Executive Director of Diverse Arts; Eric Okuhara, muralist and illustrator; and Dr. Aranzazu Ascunce, professor at the University of Hawaii at Manoa.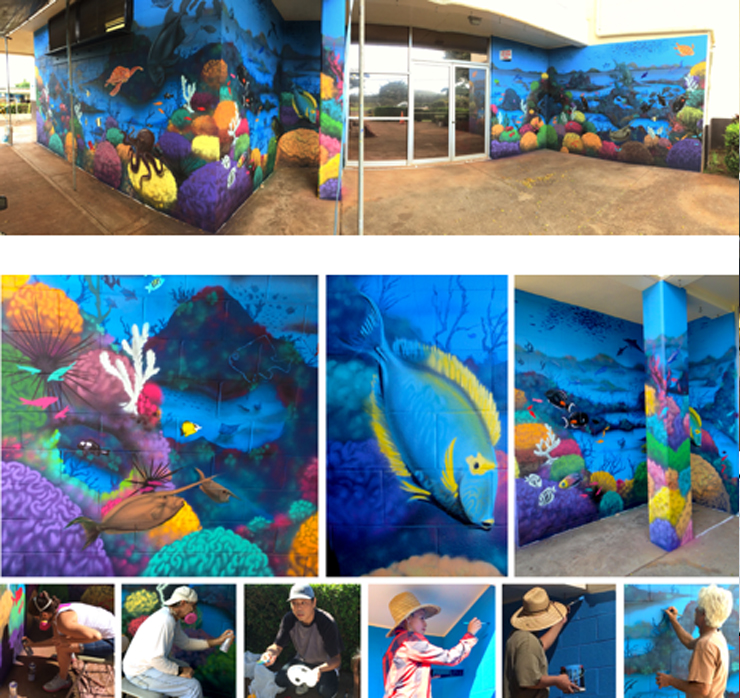 •    CONDUCTING ONE MURAL WORKSHOP: Nishimura conducted an intensive introductory mural workshop for Robert Bento and some of Perry Buchalter's art students. Nishimura covered topics like learning how to create time and space as well as basic drawing, painting and color theory.
•    MENTORING STUDENTS: Nishimura participated in MHS's Future Fest programming which is a career day designed to help students explore different career options. Nishimura explained his career, the mural process and guided 32 students in two painting sessions that totaled five hours. Principal Hao noted, "This was a project that incorporated a lot of students that you might not see participating… all of the students were engaged."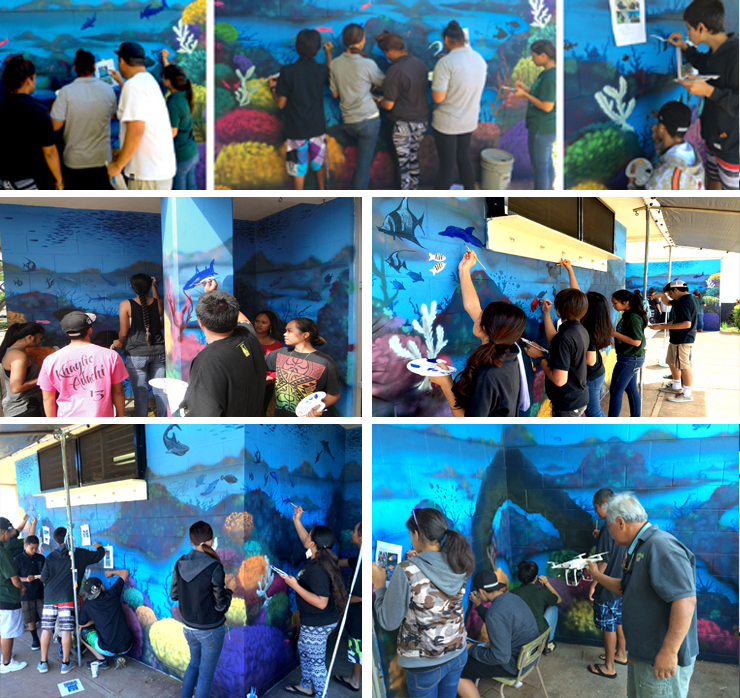 •    DOCUMENTING PROJECT: Nishimura documented this first stage of the mural project by taking photographs and making videos daily. Mr. Mickey Paole went above and beyond to provide additional footage as well as shelter from the sun. Nishimura also submitted a survey to all MHS teachers via Survey Monkey and he distributed evaluations for all students who participated in this first phase of the project. Art teacher Perry Buchalter was instrumental in collecting testimonials and parent release forms from students who participated in painting the collaborative murals.
•    INSPIRING TEACHERS: This project has already inspired one MHS teacher to use these initial ocean murals to engage her students in a creative way:
o    Ms. Jesse Ford, the environmental science teacher at MHS, is using these murals as a learning tool for her students. One activity she created involved making a legend. Students identified fish and plants according to their Hawaiian, common and scientific names. Specifically, students are scaling down the full-sized murals. Ms. Ford described the project she created: "We measured and marked off different panels for each student to focus on. They're going to reduce the mural to a 3.5 inch by 10 inch piece of paper … Each student is going to be responsible for a section. We numbered them so we can keep them in order and so we can put them together easily and then once everyone is done we're going to reassemble their panels into a smaller version of this mural which should be labeled clearly with all of the species that are shown."
•    Mrs. Lisa Takata, Student Activities Coordinator and organizer of this project
•    Principal Stan Hao and Vice Principal Kainoa Pali
•    Mr. Robert Bento and Mr. Perry Buchalter, Art Teachers
•    Mr. Mickey Pauole, Photographer, Videographer and Hospitality