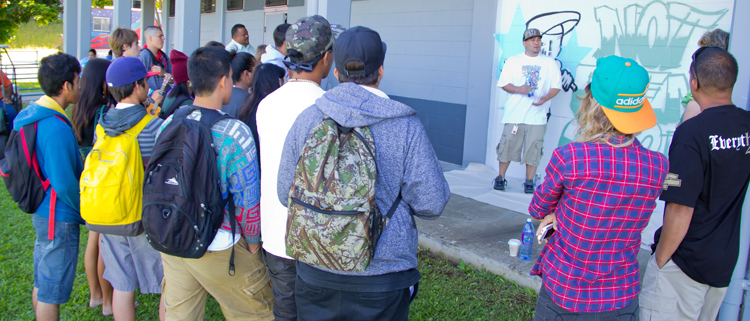 Aerosol Art Workshop with Artist Ken "East3" at Kealakehe High School in Kailua Kona, Hawaii (Big Island).  Our aerosol art workshops covers safety, spray can control techniques, and basic color theory.  At Kealakehe High School, Principal Wilfred Murakami was in complete support of our workshop and offered an entire building side to be used as a blank canvas for the students.

Our goal in aerosol workshops is to share a brief background about the art form and also how it is supported and recognized globally as one of the primary mediums of choice by muralist. We also share how the medium can serve as a bridge in a positive and progressive manner between community and youth through art.  We encourage the aspiring muralist/artist to seek the proper channels and work with the schools and communities to find public spaces that they can utilize to create murals.
This workshop was being conducted during the same time Ken was painting our anti-meth awareness mural for Not Even Once Mural Project which is in partnership with Hawaii Meth Project and Keep it Flowing LLC.