Mural Locations:­
Chiefess Kamakahelei Middle School:  Lihue, Kauai
Lanai High School:  Lanai, Lanai City
Konawaena High School: Kealakekua, Big Island Hawaii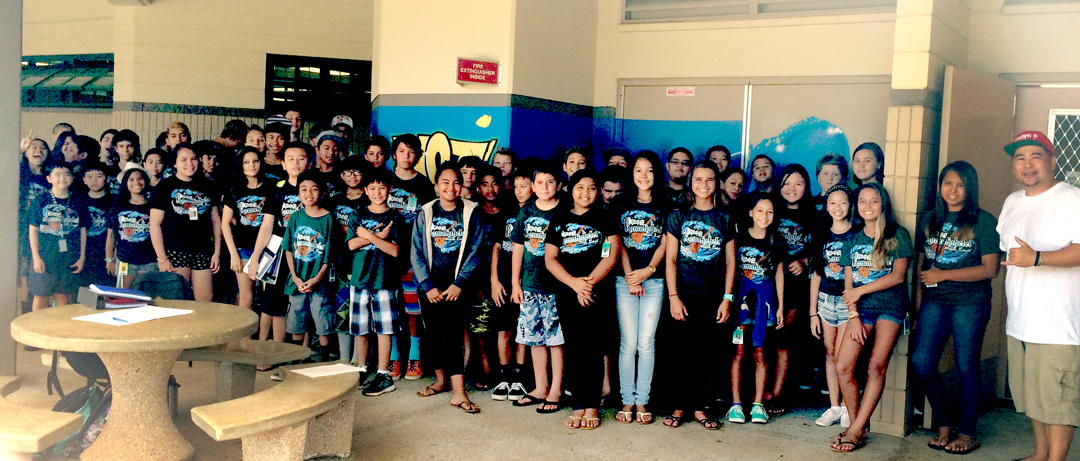 Not Even Once Mural project (NEOMP) is a movement and awareness program that now has 14 murals statewide within the Hawaiian Islands at public schools and youth facilities. Our goal as artist is to bring awareness to the youth, faculty and surrounding communities about the danger of methamphetamines using art. Our murals serve as a daily reminder to the youth to make healthy life choices and support Hawaii Meth Project's (HMP) message, in class presentations and rallies. Through these murals, the Hawaii Meth Project's message is reinforced every day to thousands of youth in Hawaii. Youth are encouraged to participate in the creative process and by doing so they are taking ownership of the project and the message of "Not Even Once".
Our murals are positioned at every school or center in the most trafficked and visible sites. Every principal and or director agrees that our mural with a message needs to be positioned in an area of the school where everyone will be exposed to it.
Chiefess Kamakahelei Middle School custodians understand the need for this program and how it creates awareness and builds the youths confidence, "we need more murals and programs that the youth can get involved with, especially murals with a message." Our organization stands strongly behind creating awareness murals and encouraging the youth to stand for what they believe in.

Keep it Flowing  also brings attention to the current state of our land, ocean and resources. Through our murals, we hope to raise consciousness about the current state of our ecosystems. We render land and seascapes using extremely vibrant colors to illustrate what the ocean and lands looked like when our world was healthier before global warming and pollution. While painting the murals we receive comments from the youth and community saying, "why do you paint the ocean with such bright colors" or "I remember when the ocean looked like that", these statements are precisely the reason why we paint our murals using vibrant colors to depict the ocean and our aina (land). We hope to inspire the next generation and communities statewide to create change and make a difference. As an arts organization we are deeply involved and concerned with the health of Hawaii's land and oceans therefore we are also active in clean up projects through out the islands.

Within our program we provide a pre-mural, during or post production presentation focusing on the process of organizing a creative based project and how to develop a mural. This workshop also allows us to assess the impact of our program through the Q&A portion and furthermore gives us an opportunity to share our perspective towards the mural art. Our extended workshop series gives the project an even greater impact and what could emerge from such a rare opportunity for most Hawaii youth is powerful.  We also focus on education regarding the aerosol spray can medium and cover safety, general product information and promote the usage of the medium only for beautification rather than to vandalize. Through the act of live painting, we are able to show how we render imagery using our techniques & how to work as a team in a safe environment created for us by the school or youth center.
This NEOMP Fall we were able to evolve the program to include students who wanted to paint imagery within the main area of the mural using acrylic paint and brushes as well as painting words of affirmations located on both sides. We worked closely with Chiefess Kamakahelei Middle and Lanai High Schools to find students who were interested in participating in this creative process. Students from both schools participated in the painting of the murals and created amazing sea life. Bad weather due to El Nino driven hurricane season compromised our time on every mural making it challenging to execute our program.
Principal Shawn Suzuki from Konawaena High School believes in our entire program. He writes: "We must create more mural projects and get the students involved at Konawaena High as soon as possible."

Ideally, we would like to revisit every site that has been a recipient of a Not Even Once mural. We would touch up the murals while also build on the relationships we have already begun thanks to this project. On this tour, we again revisited the recipient of the very first Not Even Once mural at the Boys and Girls Club in Lahaina, Maui. Lead Artist Ken Nishimura and student Trysen Kaneshige conducted BGC's very first spray can art workshop using newly developed water based aerosol paint. Both artist also created additional artwork within the youth center in appreciation for all their support. Community is an elemental component of this project and we are very thankful that our supporters agree.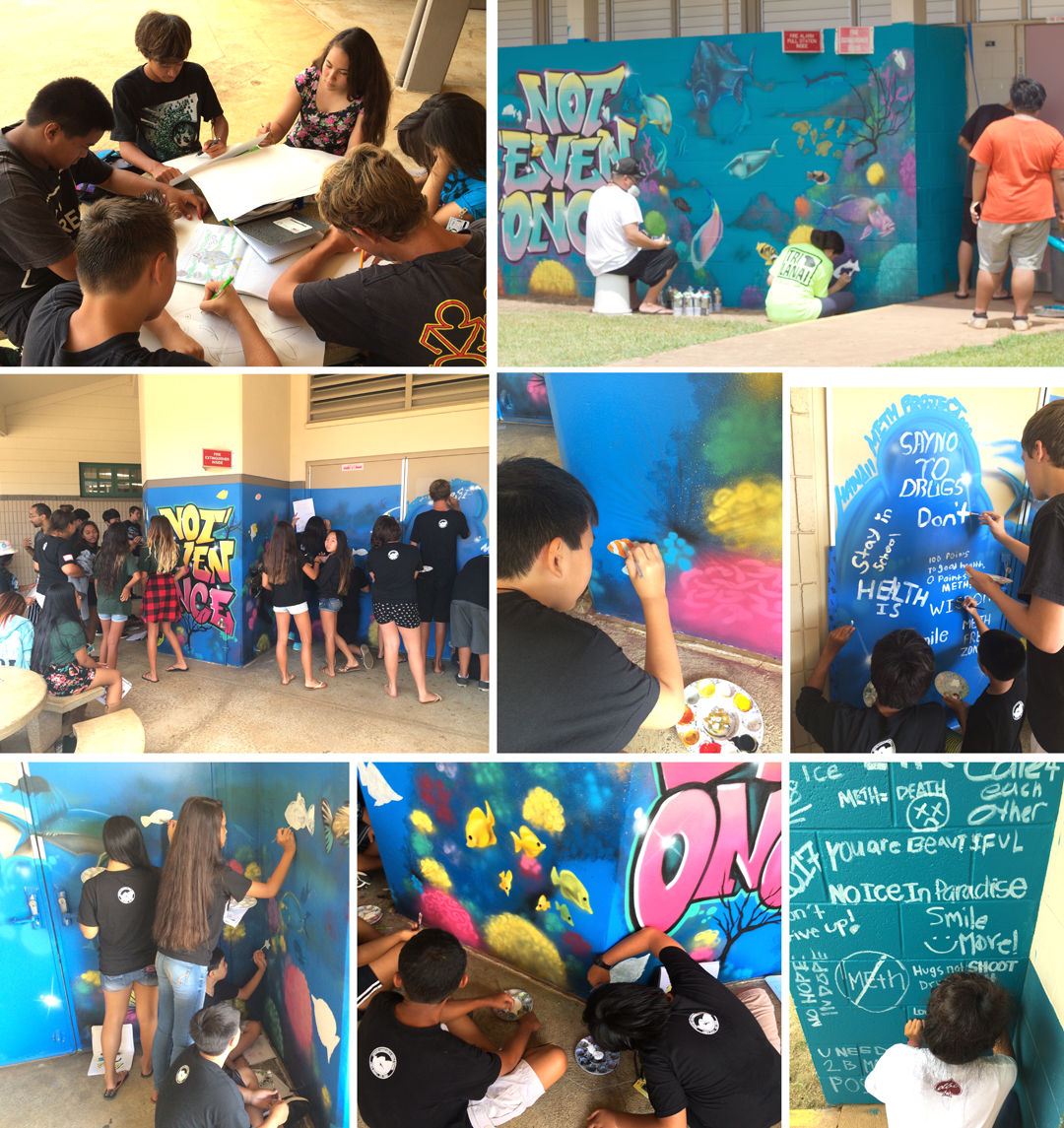 The Team
The project's lead artist, Ken Nishimura, has the life purpose of serving the youth and inspiring them through the arts. Ken has a strong background in digital art, mural works, painting & illustration. Nishimura's value towards this program also stems from having in-depth experience in project management, event planning and speaking which is the reason he is the centerpiece to the Not Even Once Mural Project. Nishimura has spoken on live on KHON news as well as interview by all island newspapers and magazines.
HMSA "Island Scene Magazine" http://www.islandscene.com/Article.aspx?id=6816
News Coverage:
KHON TV NEWS:http://khon2.com/2014/02/24/multi-island-art-tour-to-educate-youth-on-crystal-meth/
MAUI NEWS: http://www.mauinews.com/page/content.detail/id/582877/
WEST HAWAII: http://westhawaiitoday.com/news/local-news/oahu-street-artist-paints-anti-meth-mural
Read more about the Not Even Once Mural Project:
Front Cover Photo in the Maui News
Slideshow of Mural-Making, Rally and Unveiling in West Hawaii Today
Nishimura's dedication to the youth also shows in his mentorship of 20-year old, Trysen Kaneshige, from Kauai. Nishimura first met Kaneshige in 2010 at a public summer art workshop in Kauai. Nishimura has been mentoring him ever since. Kaneshige is now a critical member of the Not Even Once mural team. Not only does he paint the wall independently, he seeks partners, spreads awareness, leads workshops, addresses large audiences and, this season, for Chiefess Kamakahelei Middle School's mural, he was the Art Director. This semester Kaneshige enrolled in all on-line classes from the Institute of Fine Arts in San Diego where he is a Junior. In other words, he was taking a full load of college classes while executing an intensive four-week mural tour throughout the Hawaii Islands.
Georgi DeCosta, Executive Director of the Hawaii Meth Project went to heroic efforts to ensure that this mural tour happened and that it be fully funded.
Project Growth
Since our previous anti-meth mural tour six months ago, it has grown:
Keep It Flowing LLC introduced a new approach to our awareness mural program. We creatively incorporated the Hawaii Meth Projects tag line of "Not Even Once" into the artwork unlike previous murals where the message is directly positioned in the center. KIF was given creative freedom to render a mural that cleverly disguised the "Not Even Once" message within the artwork verse making it the centerpiece. This approach allows the mural to have more continuity and form. Both styles are effective in conveying the message to the youth. We intend to alternate themes in all future projects.
This season we received full funding to paint three outdoor anti-meth murals at four public schools on four Hawaiian Islands in four weeks.
We raised enough funds so that the youth whom we mentor, Trysen Kaneshige, was able to paint all 3 murals with travel expenses paid while also getting compensated for his work.
We expanded our model to include youth participation within the main area of the mural. Students divided their efforts to paint positive affirmations and marine life in our 2 day mural collaboration workshop. Prior to this season students only participated in the painting of positive affirmations. This season was a huge success!
We added the island of Lanai to our NEOMP mural location at Lanai High School. Currently we have NEOMP murals on 5 islands.
We developed our relationship with two companies that are now Legacy Sponsors for the mural project. Both the Kona Seaside (Big Island) and the Ace Hardware (Lihue, Kauai) have sponsored for 2 consecutive seasons.
We developed a partnership with Sun Dried Specialties and Midori's Catering to create a fundraiser that will go directly to the youth of Kealakekua Big Island. Konawaena High School and Keep it Flowing planning to organize a collaborative mural project targeted for late October 2015.
Impact
Keep It Flowing live-painted for over 10,000 students plus another approximately 1,500 faculty and staff in the past year and a half. Media coverage, blogs, social media & all publications have allowed us to share these murals and their powerful message.
This mural project has proven to be an effective way to educate audiences, frame and build dialogue, encourage buy-in for change, and increase long-term stewardship and utilization of public spaces. We are also happy to report that in one year, none of the fourteen murals have been vandalized.
The Art Teacher at Chiefess Kamakahelei Middle School remarked: "I hope this collaborative mural program can replicate and become a part of the schools programming. We have a lot of wall spaces and the students really enjoyed being part of this program."
Partnerships
Keep It Flowing continues to engage in collaborations with numerous corporations and nonprofit agencies in order to make this statewide meth prevention mural project program possible including:
Legacy Sponsors:
Mobile Native Hawaiian Health (Kauai)
Kauai Marriott Resort (Lihue, Kauai)
Home Depot (Kailua, Kona)
Kona Seaside Hotel (Kailua, Kona)
Ace Hardware (Lihue, Kauai)
Sponsor's
Sun Dried Specialties (Kealakekua, Hawaii)
Midori's (Kealakekua, Hawaii)
Expeditions Lanai Ferry (Lahaina, Maui)
Lāna'i Hongwanji Mission Home (Lanai, Lanai City)
Special Mahalo to:
 Georgi DeCosta
Leihinahina Sullivan
Wilma Holi
Nicholas Niimi
Joseph "Joe" Pueschel
Danae Marin
Boys and Girls Club Lahaina, Maui
Dee Dee Woods
George Baxter
Kamu Plunkett
Giget Esteban
Chiefess Kamakahelei Middle School
Lanai High School
Konawaena High School
Our art practice is participatory and community engagement is our focus. These murals bring us together. They provide access to catalyze new networks of communities, participants, supporters, students and funders. Annually this project provides murals that incorporate community outreach and workshops in mural-making, digital arts and other mediums. The Not Even Once murals build up our youth, their communities and the ocean that surrounds us all.
For more information about the Not Even Once Mural Project, contact:
Ken Nishimura
Keep It Flowing Founder & Lead Artist
Chiefess Kamakahele Middle School
Dates:                   Friday, August 15 – Tuesday, August 19
Location:              Lihue, Kauai
Enrollment:         950+ students
Mural Size:           7 feet height by 24 feet width
Painting time:      25 hours (with students)
Principal:              Debra Badua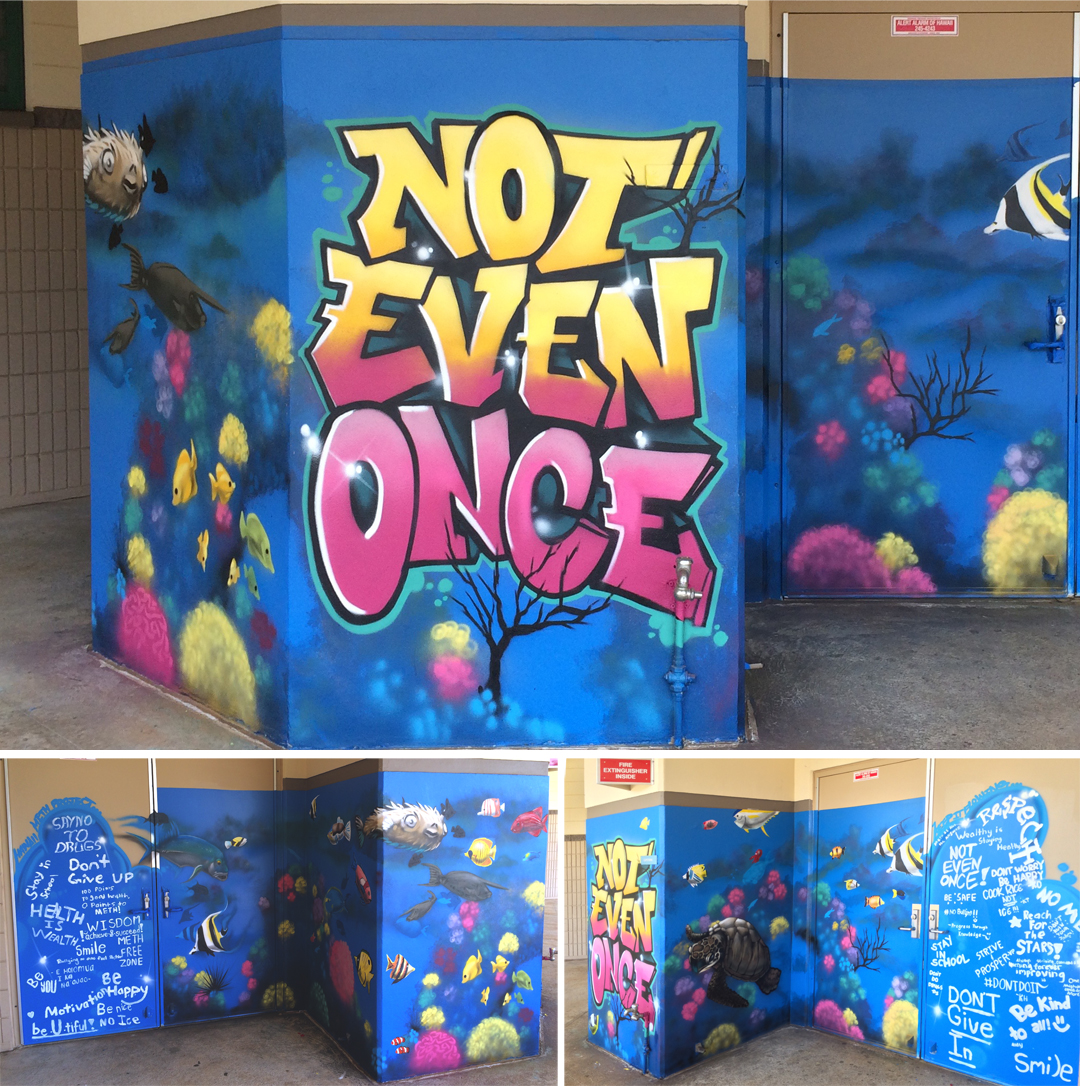 Programing: Live Painting. Collaborative mural painting with over 30+ students. Students were assigned to either write a positive affirmation, anti-drug message or paint marine life.  Art Teacher Mr. Shaun Redd ensured that the students were prepared to render the ocean life by having them practice the imagery weeks in advance. Post mural presentation by lead artist Ken Nishimura and artist Trysen Kaneshige covering the process of the mural, Q&A session and sharing  inspirational messages.  Kaneshige is an alumni of Chiefess Kamakahelei Middle School and was extremely excited to give back to his Alma mater.
Artists:  K. Nishimura, T. Kaneshige, Shaun Redd and Students
Special Thanks:  Principal Debra Badua School
Lanai High School:
Dates:                  Friday, August 21 – Sunday, August 23rd  (hurricane advisory)

Location:             Lanai, Lanai City
Enrollment:         670+ students
Mural Size:           9 feet height by 25 feet width
Painting Time:     20 hours
Principal:              Elton Kinoshita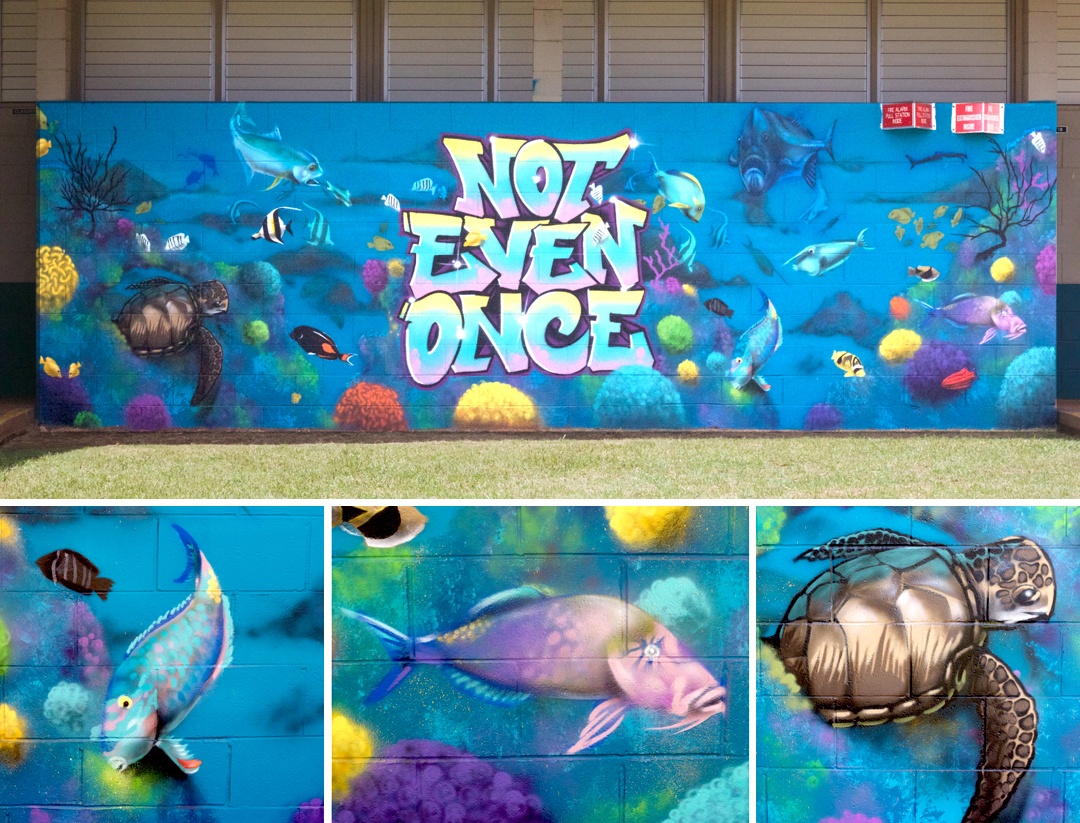 Programing:  Painting. Invited students to collaborate on the ocean themed mural through painting sea life or writing positive affirmations. Mural unveiling was held on Tuesday, August 25th 2015 where a awareness booth and rally was organized at the mural site by Hawaii Meth Project Teen Advisory Council Member Nicholas Niimi a Senior of Lanai High School.
Artists:  K. Nishimura, T. Kaneshige, N. Niimi
Special Thanks:   Principal Elton Kinoshita, Nicholas Niimi, Lāna'i Hongwanji Mission Home & Expeditions Lanai Ferry
Konawaena High School
Dates:                    Saturday, August 29 – Wednesday September 2nd
Location:              Kealakekua, Hawaii
Enrollment:         1000+ students
Mural Size:          8 feet height by 20 width
Painting Time:     20 hours
Principal:              Shawn Suzuki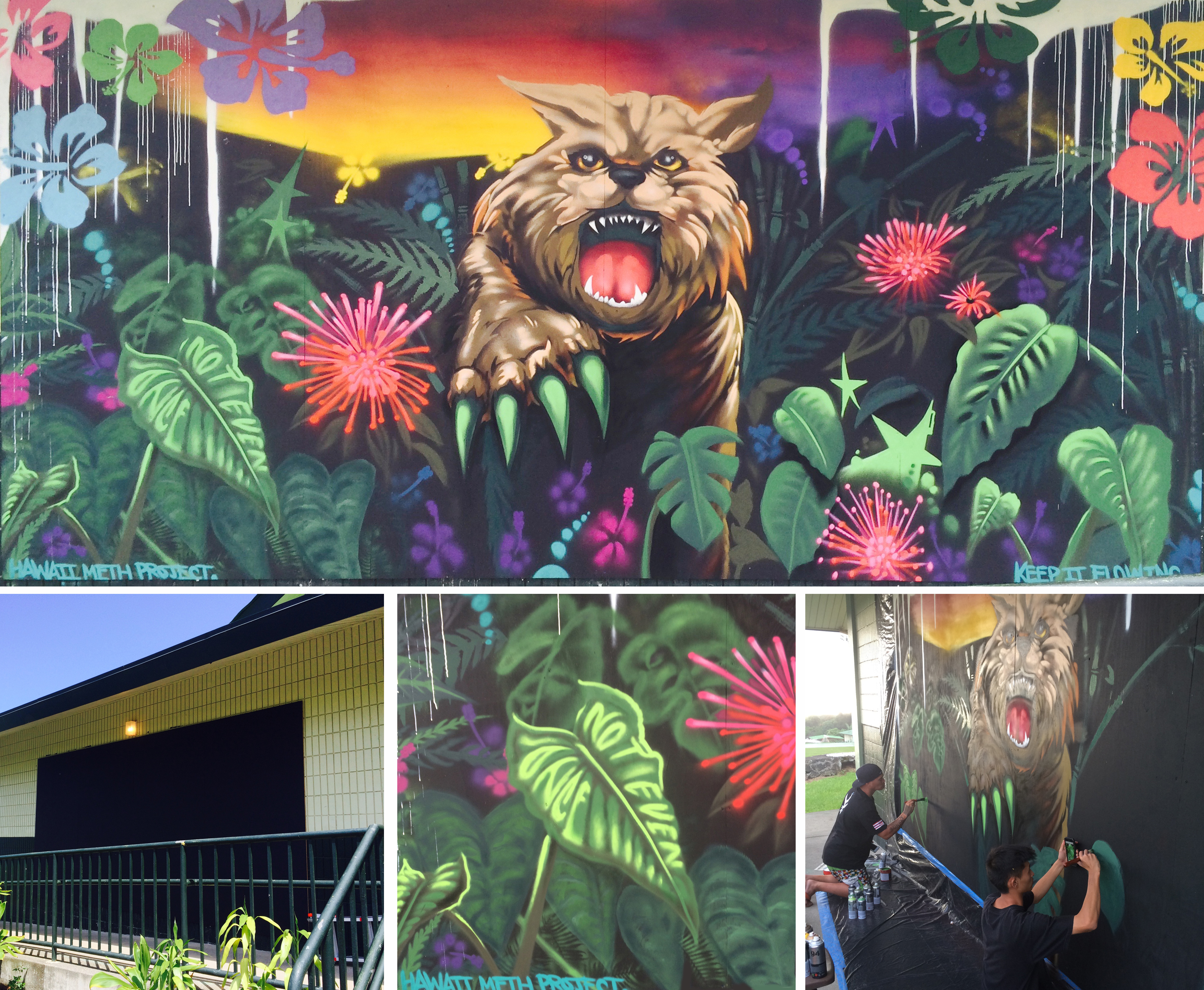 Programing:  The completion of the mural was followed up by an onsite presentation sharing the mediums used, techniques and process of creating a mural. We also visited two classrooms to further speak about the process & application as well as the back end organization and planning of this program. Both Nishimura and Kaneshige also volunteered to be interviewed for media class to use for a PBS submission.
Artists:   K. Nishimura, T. Kaneshige & K. Payton
Special Thanks:   Shawn Suzuki, Diane Spencer, Brian Fujisawa & Dick Choy