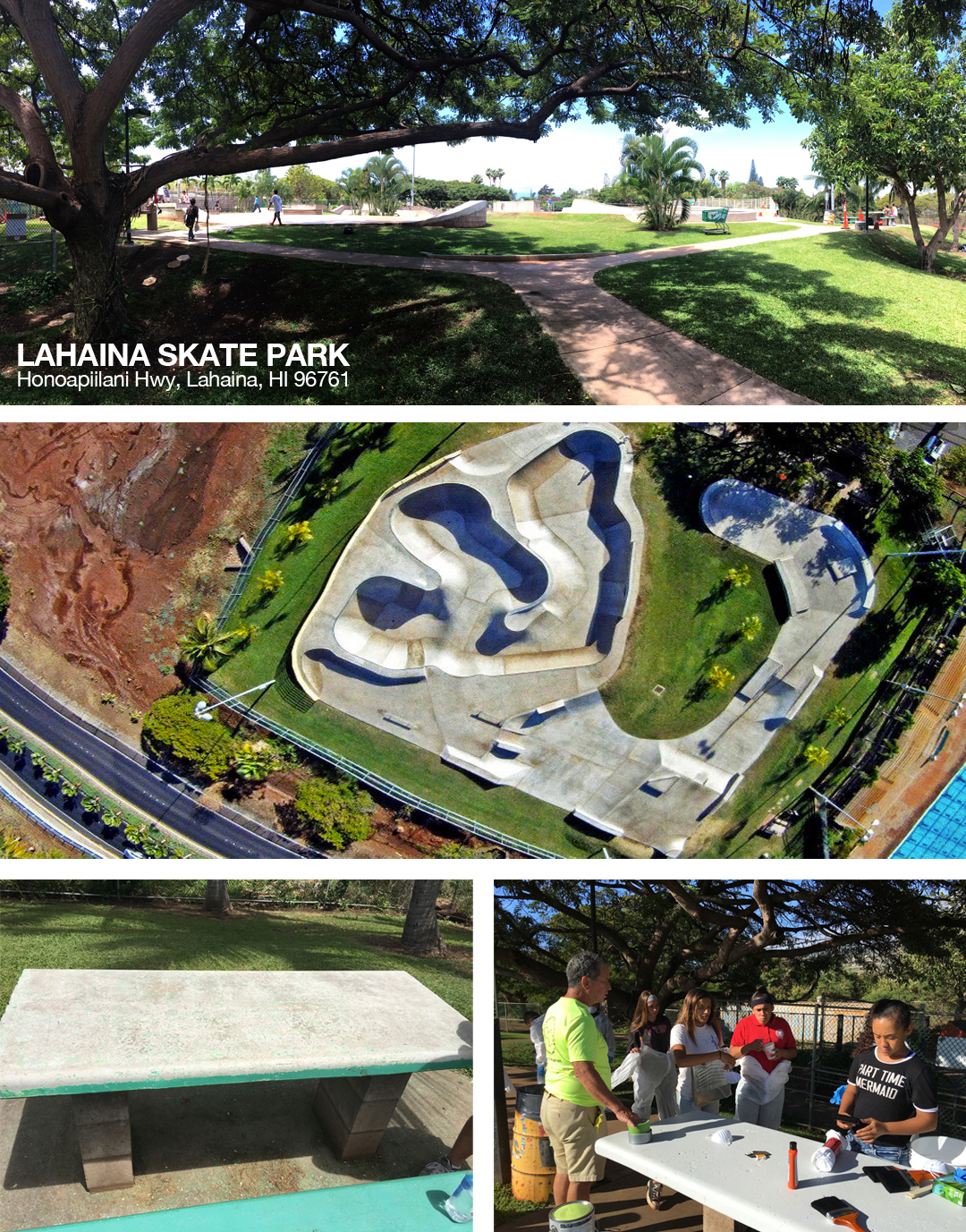 Lahaina Skate Park beautification and collaborative art project was organized by the County of Maui's Parks and Recreations West District Supervisor Danae Marin and the Creative Director of Keep It Flowing LLC.  Over the years the Lahaina Skate Park's walls and tables have been vandalized  and as a result re-painted over and over, so as a solution we decided to create a two phase beautification project. Within phase one of the project, the goal was to start the beautification process by painting artwork on all tables and benches.  The Rotary Club of Lahaina, who played a huge role in making the skate park possible, began the rejuvenation process by repainting  all surface areas damaged by vandals and cleaning up.
Having a great relationship with Lahaina Boys and Girls Club (BGC) we immediately contacted the club to rally all youths interested in being a part of the creative-based event.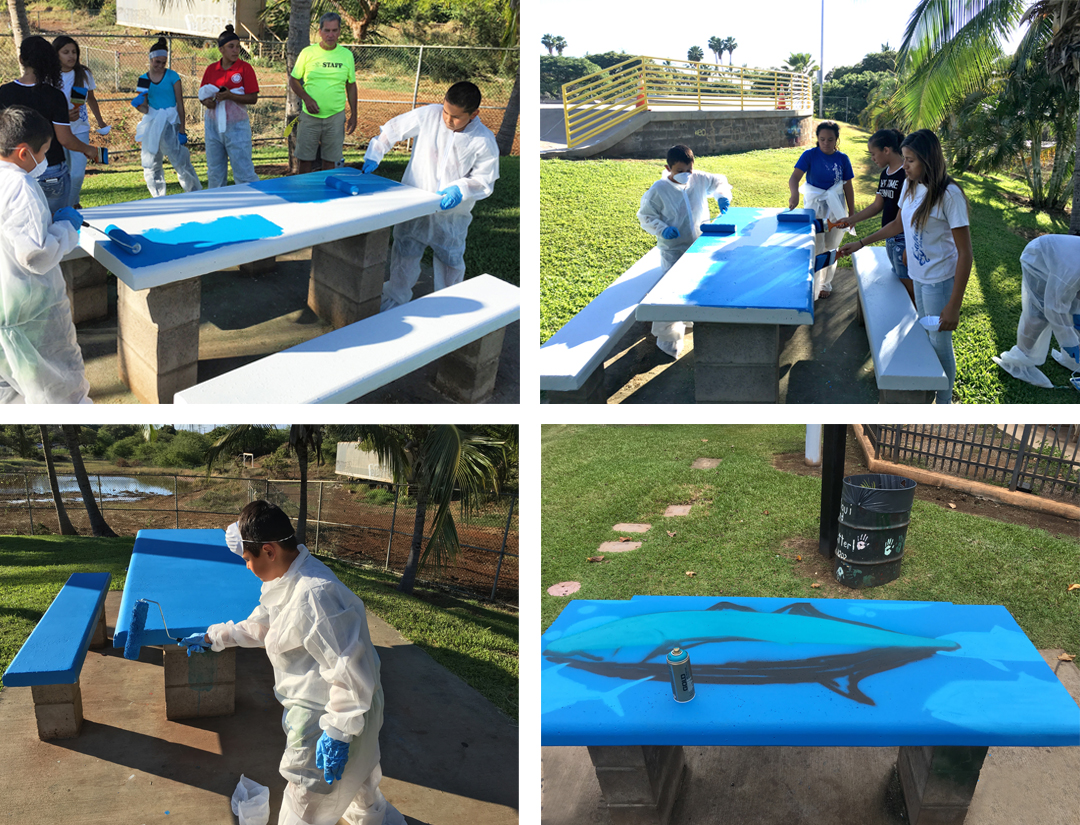 Boys and Girls Club Lahaina  youths painting several coats of water-based paint on all park benches and chairs.  Boys and Girls Club organized and supervised the short excursion to the park so the youth could participate in the activity.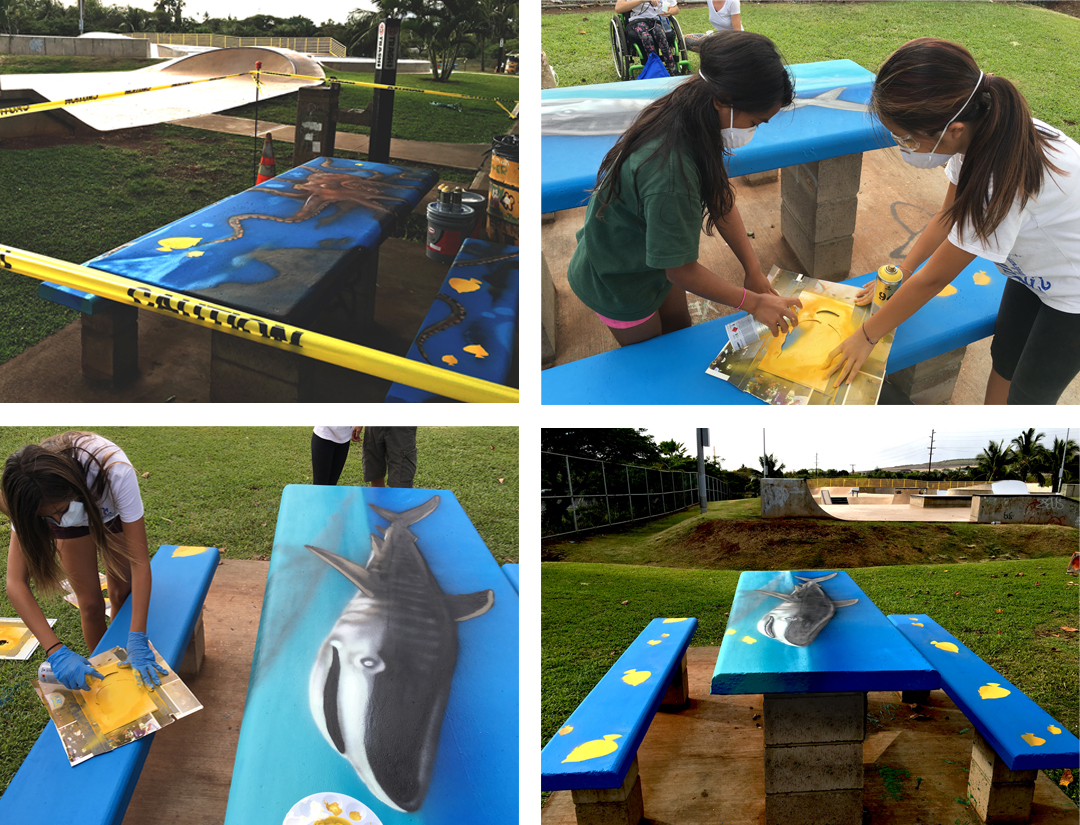 With guided supervision by Boys and Girls Club Volunteer, Stacey Boggess, the BGC youths created numerous "Yellow Tang" fishes using eco-friendly aerosol paint and stencils. Each fish was painted with 3 shades of yellow using stencils that the youth created previously at the Club.  Stacey was also co-creating the Yellow Tangs with the youths.   Most of the BGC youth volunteers who participated in the project have previously engaged in aerosol workshops, organized by Keep it Flowing, in previous visits to Maui.
On Friday April 15, Lahaina Parks and Recreation organized "West District 2016 Skate Jam"!  The community was invited to come celebrate the completion of phase one of the beautification project.  The celebration included a music, free food, skate competition, special dance performances and the Keep it Flowing LLC. artwork unveiling.  Thank you to all County of Maui Parks and Recreations West staff, Rotary Club of Lahaina, Boy and Girls Club and the community for all you help and guidance.  Phase two coming soon!
Mahalo Nui:
Danae Marin
Entire Parks and Recreation Staff
Uncle Joe
Boys and Girls Club
Stacey Boggess