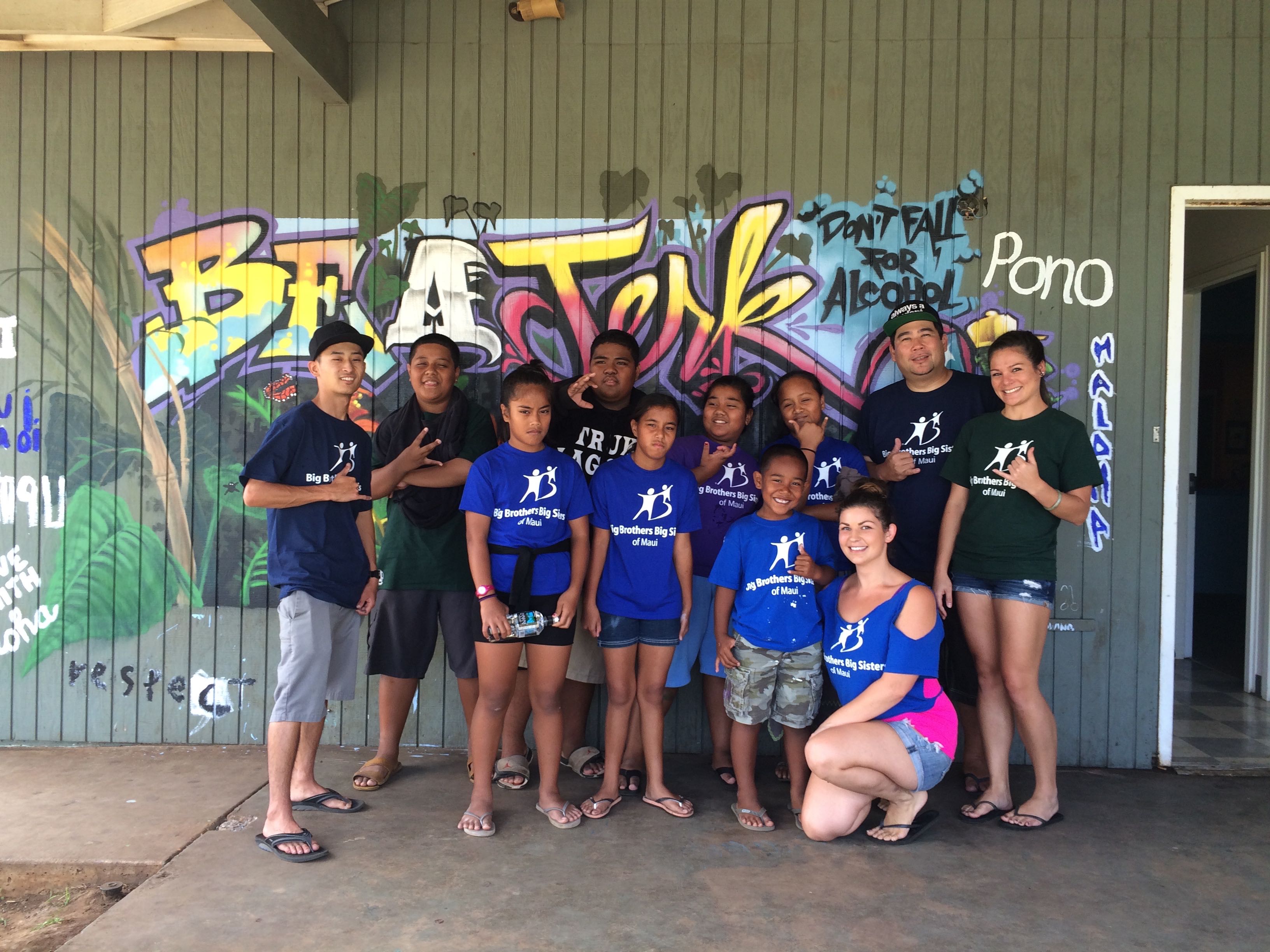 Trysen Tkay2 Kaneshige and Keep it Flowing is partnering up with Big Brothers and Big Sister (BBBS) in Maui to create an awareness mural at their club house!!!  Be a Jerk is a campaign supported statewide to stop underage drinking.  Visit our "mural" section in our portfolio for the latest updates. Stay tuned!
Mural Location:
Big Brothers Big Sisters Maui, 200 Waimaluhia Lane, Wailuku, HI 96793
Mural Size:
15 feet x 9 feet
Mural Media:
Acrylic
Muralists:
Ken Nishimura (East 3) and Trysen Kaneshige (Tkay2)
Date of Completion:
March 27, 2015
Mural Unveiling:
April 18, 2015
Big Brother Big Sisters Contact Info:
JD Wyatt, Director, JD@bbbshawaii.org, 808-242-9754 ext. 202
Courtney Cabebe , Match Specialist, ccabebe@bbbshawaii.org, 808-252-9754 ext. 207
Ashlee Chapman MSW, School Based Case Manager, achapman@bbbshawaii.org, 808-242-9754 ext. 206
The Underage Drinking Prevention Coalition includes the following organizations:
Maui County, Department of Housing and Human Concerns; Aloha House; Maui Youth and Family Services; Maui Economic Opportunity, Inc.; Community Work Day; Kihei Youth Center; Paia Youth & Cultural Center Maui; Ka Hale A Ke Ola Homeless Shelter; Alu Like Molokai; Lanai Youth Center; Hana Youth Center; Baldwin High School, Peer Education Program; Boys and Girls Clubs of Maui; and Maui Police Department.
If you are drinking too much, you can improve your health by cutting back or quitting. Here are some strategies to help you cut back or stop drinking:
Limit your drinking to no more than 1 drink a day for women or 2 drinks a day for men.
Keep track of how much you drink.
Choose a day each week when you will not drink.
Don't drink when you are upset.
Avoid places where people drink a lot.
Make a list of reasons not to drink.