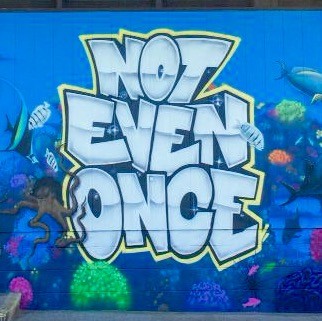 Tomorrow we will unveil our 10th anti-meth mural at Kohala High School on the northern coast of the island of Hawaii. In twelve months we've completed ten Not Even Once Murals statewide thanks to the support of many individuals, businesses and organizations. Here are five reasons why we should keep creating more anti-meth murals.
Our anti-meth murals stimulate dialogue about a critical issue that currently affects the wellbeing of our state. During the past three weeks we've been on tour painting anti-meth murals, there have been numerous news reports and features about meth dealing and addiction in Hawaii including these:
http://www.hawaiinewsnow.com/story/28198062/man-receives-12-year-prison-sentence-for-molokai-meth-ring
http://mauinow.com/2015/02/23/7-7-pounds-of-meth-found-in-hilo-drug-bust/
http://www.hawaiinewsnow.com/story/28265661/sources-mental-illness-and-meth-use-made-freeway-jumper-very-unstable
http://www.midweek.com/hawaii-medical-advice/doctor-in-the-house/psychiatry-meth-addiction/
Our mural-creation process builds bridges of activism. These anti-meth murals are just one piece of a larger program that raises awareness about the dangers of meth use through in class presentations and rallies organized by the Hawaii Meth Project. Students get involved in leading and organizing anti-meth rallies and other events to raise awareness about the dangers of meth at their schools and in their communities.
Our anti-meth murals transform spaces into places where students hang out, take pictures and stage events. They beautify school grounds and add bright, uplifting splashes of color for the enjoyment of all at a minimal to no cost to schools.
Our work shows youth one effective way of how to use art to raise awareness about critical social and cultural issues that impact our community.
We use the restorative power of art to help break the cycle of crime and violence in our communities.